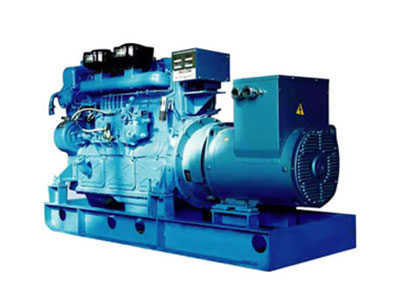 95/135/G128 Series Marine Diesel Generating Sets 50-275KW
135 series marine diesel generating sets are composed of 135 marine engines produced by Shanghai Diesel Engine Company and Stamford or Marathon series brushless 3 phase generators.
The gensets possess closed cooling water system and protection features for high water and oil temperature, low oil pressure and over~speed. The rotor of generator is designed of non~salient pole type and provided damping windings and brushless THYRIPART excitation system.
Engine collection
fresh~sea water cooling system; heat exchange; Fresh, sea water pump; expansion tank; water cooled manifold
Above engine is made by Shanghai Diesel Engine Co., Ltd. Dongfeng Brand. (Except 95)
Alternator is Stamford or Marathon made in China.
Features of MARINE DIESEL GENSET:
24V DC electric system with battery
control panel with speed, oil pressure, water temperature, emergency stop button
air cleaner
Captive 4~point mounting system with vibration isolator mounts. Structural steel skid with convenient 4~point lifting arrangement.
Engine protecting system: High speed, High water temperature, Low oil Pressure.
95/135/G128 SERIES MARINE DIESEL GENERATING SETS-50-275KW(50HZ,3 PHASES)
Gensel Model
Prime power
(KW)
Current
(A)
Voltage
(V)
Engine model
Engine power
(kw)
Rated speed
Cyl. Nos
Bore stroke
Displace ment(L)
Alternator
OVERALL DIMENSION (L*W*H)mm
NET WEIGHT KGS
units per 20'
Marathon
Stamford
CCFJ40J
40
72
400
4135Caf
58.8
1500
4
135*140
8
MP-H- 40-4
UCM224E
1840*769 *1310
1420
5
CCFJ50J
50
90
400
4135ACaf
73.5
1500
4
135*150
8.6
MP-H- 50-4
UCM224F
1840*769 *1310
1420
5
CCFJ64J
64
115
400
6135Caf
88.3
1500
6
135*140
12
MP-H- 64-4
UCM274C
2273*780 *1310
1890
4
CCFJ75J
75
135
400
6135ACaf
110.3
1500
6
135*150
12.9
MP-H- 75-4
UCM274D
2273*780 *1288
1890
4
CCFJ90J
90
162
400
6135JZCaf
140
1500
6
135*140
12
MP-H- 90-4
UCM274E
2380*780 *1264
1996
4
CCFJ100J
100
180
400
6135JZCaf
140
1500
6
135*140
12
MP-H- 100-4
UCM274E
2380*780 *1264
2140
4
CCFJ120J
130
217
400
6135JZLCaf
176
1500
6
135*140
12
MP-H- 120-4
UCM274G
2620*952 *1555
2200
2
CCFJ130J
130
235
400
6135JZLCaf
176
1500
6
135*140
12
MP-H- 130-4
UCM274H
2620*952 *1555
2200
2
CCFJ150J
150
271
400
G128ZLCaf1
200.5
1500
6
135*150
13
MP-H- 150-4
HCM434C
2652*825 *1470
2560
2
CCFJ180J
180
325
400
G128ZLCaf1
200.5
1500
6
135*150
13
MP-H- 180-4
HCM434D
2652*825 *1470
2560
2
CCFJ200J
200
361
400
G128ZLCaf2
236
1500
6
135*150
13
MP-H- 200-4
HCM434D
2652*825 *1470
2560
2
CCFJ250J
250
451
400
G128ZLCaf3
275
1500
6
135*150
13
MP-H- 250-4
HCM4D
2652*825 *1470
2560
2