D Series Diesel Engine for Generating Sets
The D series engine is the brainchild jointly designed by SDEC and AVL. It is developed regarding the Chinese oil products and users' application habits. It is the most recently designed and most technologically advanced engine among the current domestic mature engines as well as one of the mainstream matching powers for domestic engineering machineries, with sales amounting to more than 600,000 pieces. The main models of the Euro II D series engine are D4114, D6114 and D9.

Diesel Engine SC9D
SC9D Technical Parameters Power Range: 260~320 PS
Model
Unit
EURO II
EURO Ⅲ
SC9D210.1
G2B1
SC9D220
G2
SC9D250
G2
SC9DK280
Q3
SC9DK290
Q3
SC9DK320
Q3
Engine Type


Direct Injection, Straight-Line, Water-Cooling Cylinder Liner, Six-In-Line, Four-Stroke, Water Cooling
Intake Mode


Mechanical Fuel Pump, Turbocharging (Charge Inter-Cooling)
Electronic-Controlled, Charge Inter-Cooling
Cylinder Bore ×Stroke
mm×mm
114×144
Total Displacement
L
8.8
Compression Ratio


18:01
Standard Power/Rated Rotate Speed
kW/r/min
155/2000
162/2200
184/2200
206/2200
213/2200
235/2200
Fuel Consumption at Standard Working Condition
g/kW.H
≤215
≤210
Max. Torque/Rotate Speed
N.m/r/min
880/1300
920/1400
1110/1400
1160/1400
1160/1400
1250/1400
Noise
db(A)
≤98
Overall Dimensions
mm
1363 (Length) x 890 (Width) × 982 (Height)
Weight
kg
770
The D series electronic-controlled diesel engine is an electronically controlled high-pressure shared-rail engine developed based on the original D series products on which SDEC has made electronically controlled layout in cooperation with famous companies including Denso since 2002. In 2005 SDEC's SC8DK electronically controlled engine passed the expert approval organized by Shanghai Municipal Economic Commission and has been rated as 'a new generation of energy-efficient and environmentally friendly engines with proprietary intellectual property rights, reaching the international level of this century among similar products and at the leading domestic level. Products like SC5DK and SC9DK were also developed successfully. In 2006, SDEC joined U.S. Southwest Research Institute (SWRI) to develop the SC9DF electronically controlled Euro III/IV engine, upgrading the power of electronically controlled products to 375 horsepower. The main models of Euro III/IV D series electronic-controlled engines are SC5DK, SC8DK, SC9DK and SC9DF.
Features of Euro II D Series Diesel Engines
High Reliability
The overall structure is designed with multi-functional integration of parts. The structure is simple, with parts 25% less than general diesel engines, reducing fault troubles and increasing product reliability.
Good Use Efficiency
Under the equivalent use conditions, it is more fuel-efficient, equipped exclusively with the core fuel-efficient technology.
Extensive Application
The 114 series products are used for loaders, bulldozers, excavators, truck cranes, road rollers, pavers, land levelers, tractors and milling machines, etc.
Easy Maintenance and Care
With sales amounting to 600,000 and nationwide maintenance networks and spare parts storage, D series products are very easy for maintenance and care.
Features of Euro III/IV D Series Diesel Engines
Complete Functions
SDEC's Euro III engine is equipped with an ECU system, upgrading the overall vehicle.
Electronically controlled exhaust braking system: turn on and turn off the exhaust braking system according to the engine working condition and the driver's intention.
Whole vehicle cruise functetw_productsion: cruise function on expressway relieves the driver's fatigue and adds driving comfort.
Maximum speed protection: limit highest vehicle speed, protects the engine and the complete vehicle, and improves complete vehicle service life.
Idling adjustment: the diesel engine changes the idling state or accelerates engine for warm-up according to the engine condition and changes the engine speed according to condition of accessories such as the complete vehicle air-conditioning.
The engine's electronically controlled system is capable of self-diagnosis, and can issue an alarm through the fault indicating lamp and display the fault category. In case of major failure, the engine can carry out protective action.
High Reliability
It features mature engine body technology. The electronically controlled engine is developed based on Euro II, with basically the same parts (body, cylinder cover, crank axle, piston and lever, etc.). It is used in equipment like trucks, passenger cars, engineering machineries, engine sets, etc. It has been strictly tested in very harsh environments, for example, plateau, extremely hot, cold and dusty environments. It uses the most mature electronically controlled high-pressure shared-rail system in the world and its key parts are from world famous brands. Under proper use conditions, its overhaul period is up to 800,000 km.
Fuel Saving
The combustion system of electronically controlled engine has been fully optimized, making full use of every drop of oil. Characteristics minimum fuel consumption is 193g/KW.h, and rated point fuel consumption is less than 215g/KW.h. Fuel consumption of the complete vehicle has been further reduced.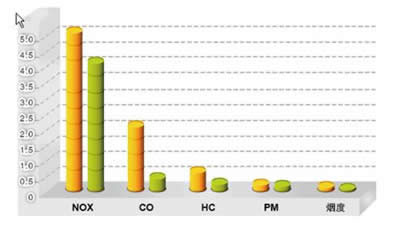 Low Noise
By optimizing the injection rate, delaying injection timing and adjusting injection pressure, the combustion noise of the engine has been reduced by 2~3 decibel, the overall engine noise is lower than 98 decibel, and the overall noise of the passenger car when accelerating drops to 82 decibel. The electronically controlled diesel engine uses pre-injection technology and oil injection consistent calibration, which significantly improves the combustion condition of diesel engine and the consistence of combustion in all cylinders, and reduces the engine noise.