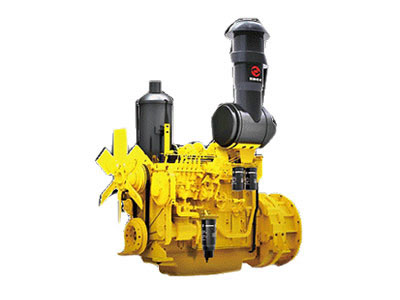 Wheel Loader, Scraping Machine
Scraping Machine – Loader
SDEC is one of the most important loader power suppliers based in China. To date, the main engines for loaders of SDEC are the D9 and SC11CB (C6121) series. D9 products are available for medium and heavy-duty loaders and SC11CB (C6121) products are available for heavy-duty 50, 60 and 80 loaders, particularly available for working at harsh conditions such as high strength, high temperature, low temperature and high altitude.
D9 Product Advantages
Over the eight years since its launch, our sales of D9 has exceeded 400,000. Regarding the latest working conditions and power requirements of domestic 50 loaders, SDEC has upgraded the D9 engine.

Strong Power
Special speed controller for engineering machineries upgrading response speed by 30%, air-air intercooling technology upgrading power by 30%.
High Reliability
The overall thermal load is reduced as well as the thermal load of related parts. Reliability is enhanced by 30%. The high quality of key parts is guaranteed. The sealing elements in the leakage prevention design for oil seal and water seal use superior materials. The sealing structure uses a secure, reliable and tolerant design.
Good Economical Efficiency
Diesel consumption is reduced by more than 5% (compared with the second generation of supercharger type). Economical fuel consumption advantages have been improved compared with similar products. Domestic mainstream engineering machinery manufacturers have fully tested and verified such upgrade.
Good Cold Start
Cold-start performance of engine for northern cold areas has been particularly improved. Without adding any auxiliary device, the engine can be easily started at subzero 15oC. When an auxiliary device is added, the engine can be started at subzero 45.
SC11CB Product Advantages
Strong Power
The displacement is 10.5L, and the maximum torque reserve coefficient can reach up to 1.5; having exceptional dynamic property and good response and it is easy to operate.

Strong Plateau Adaptability, Superior Low Temperature Start up Performance
No engine power is lost if at a plateau with an altitude of 4500 m and above.
Sufficient Storage of Spare Parts, Easy Maintenance and Simple Repair
Spare parts are easily available around the country, repair accessories are reasonably priced, and fittings are easy to purchase.
Engine Models for Loader
Machine Model
Engine Model
Power/Speed (kW/min)
Max. Torque/Rotate Speed (N.m/r/min)
Emissions
ZL30
SC5D125G2B1
92/2200
440/1400~1500
EURO II
ZL40
SC8D170G2B1
125/2200
650/1300~1500
EURO II
ZL50
SC11CB220G2B1
162/2200
843/1400
EURO II
SC9D210.1G2B1
155/2000
880/1300~1500
EURO II
SC9D220G2B1
162/2200
920/1300~1500
EURO II
SC9D210.1G2
155/2000
880/1300~1500
EURO II
SC9D220G2
162/2200
920/1300~1500
EURO II
SC8DK220G3
162/2200
850/1300~1500
TierⅢ/StageⅢA
SC11CB220.1G2B1
162/2200
930/1300~1500
EURO II
ZL60
SC11CB240.1G2B1
174.5/2200
912~950/1400
EURO II
ZL80
SC11CB305G2
224/2200
1192/1400
EURO II
Typical Engine Dimension SC9D220G2B1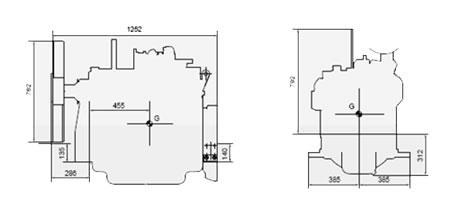 Engine Models for Bulldozer
Machine Model
Engine Model
Power/Speed (kW/min)
Max. Torque/Rotate Speed (N.m/r/min)
Emissions
TY130
SC8D143G2B1
105/1900
690/1300
EURO II
TY140
SC8D156.2G2B1
115/1800
765/1260
EURO II
TY150
SC8D170.2G2B1
125/1800
750/1400
EURO II
TY160
SC8D180.2G2B1
132/2000
810/1450
EURO II
SC11CB184G2B1
135/1850
843/1300
EURO II
TY165
SC11CB184G2B1
135/1850
843/1300
EURO II
TY180
SC11CB200G2B1
148.5/1850
870/1200
EURO II
TY220
SC11CB260.1G2
190/2000
1090/1400
EURO II
Typical Engine Dimension SC11CB